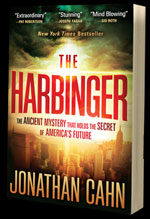 Is it possible that one of God's ANCIENT MYSTERIES holds the key of America's FUTURE?

Is it possible? 1) That this mystery lies behind everything from 9/11 to the collapse of the global economy? 2) That today God is sending America a prophetic message of what is yet to come? 3) Before its destruction as a nation, ancient Israel received nine harbingers, prophetic omens of warning. One by one, the same nine warnings are appearing in the world todaythis time on American soil.

In The Harbinger these prophetic mysteries are revealed through an intriguing and engaging narrative. Blending actual biblical prophecy, historical events, and an action-packed story, this is a book you won't want to put down!

NOTE: We do not agree on every Scriptural aspect of this book, and encourage you to read with a good deal of Berean discernment. In the end, Christians must simply preach 'Repent of your sins through Jesus' blood sacrifice' instead of relying upon certain signs or harbingers as we think we see them. Furthermore, it is always dangerous to base a stand on an End of the Age issue narrowly, only on one issue, as the Harbinger certainly does.