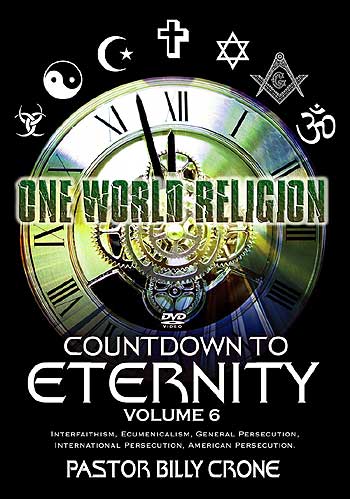 "Countdown To Eternity" DVD
"One World Religion"
Vol 6, by Pastor Billy Crone
Regularly $39.99, Only $19.99
Pastor Billy Crone alerts Christians of the movement towards a one world religion, in Today's News!
These are the key trends he covers:
Interfaithism
Ecumenicalism
General Persecution
International Persecution
American Persecution
Pastor Crone lists major prophetic signs God has given to lovingly wake us up so we'd repent and be saved before it's too late. These two DVDs are loaded with shocking film clips that illustrate the move towards the faith that all roads lead to God.
Over four hours long, 2-DVD Set - http://www.cuttingedge.org/detail.cfm?ID=2519
---------- This Week's Hot News -------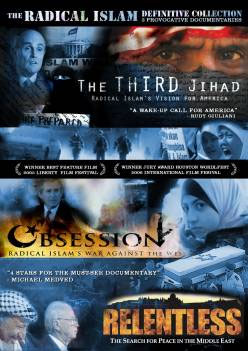 DVD SET
I. The White House has been slipping arms to Syrian rebel forces fighting President Assad since 2006, even though these fighters are radical Jihadists!
The true face of these American "allies" is now in full view of the entire world: a Syrian rebel is seen cutting the heart out of a slain Syrian solder and eating it!
NEWS BRIEF: "Syrian Rebels in Cannibalistic Shock Video: Rebel eats heart of dead rival", Israel National News, May 14, 2013
"Rebels fighting against Syrian strongman Bashar Assad's forces have published a shock video showing one of them eating the heart of a dead rival. (Watch this most disturbing video). "
"Some in Israel saw the video as further proof that the U.S. is pursuing a wrongheaded Middle East policy. David Haivri of the Samaria Regional Council commented on the video, saying that 'Syrian rebels are committing war crimes and proud to display this on the internet. If these animals win the war they will be glad to eat our hearts and abuse our women'."
In our current News Alert -- Monday, May 13, 2013 -- we report that the real purpose of the Benghazi Operation was to funnel arms and munitions to rebel forces fighting President Assad in Syria. This CIA operation was started by Republican George W. Bush in 2006 and continued by Democrat Barack Obama, even though both Presidents knew that Syrian rebels were radical jihadists, a group far more bloody and barbaric than Assad ever was.
This new shock video proves the barbaric nature of the Syrian rebels; hard-core Satanists cut out key organs from their human sacrifice and eat them. White House support of these type of barbaric people demonstrates the true nature of our Presidents and the men around them. White House support of radical militants such as these Syrian rebels constitutes criminal activity. (Do you remember when Iraqi militants barbarically beheaded an American contract soldier"? (Read NEWS1916, NEWS1917, and NEWS1918)
Islam is a bloody religion and is responsible for more Christian deaths than any other force in history. The only reason northern Africa and the Middle East are so predominately Muslim is that the Christians were eradicated by bloody force. This is Islam and this is the type of "Syrian rebel" we have chosen to support.
Since World War II, American Presidents have continually supported the most evil and bloody forces in an effort to overthrow a targeted regime. The time has come to realize that the hearts of our Secret Society presidents are bloody and dark, just as prophecy reveals they would be, at the End of the Age.
Please carefully read these prophecies and contemplate their truly dark nature.
Daniel 7:7-8 -- "After this I saw in the night visions, and behold, a fourth beast ... and it had ten horns [symbolizing ten kings] ... I considered the horns, and behold, there came up among them another horn, a little one..." (Daniel 7:7-8;

Parallel Bible, KJV/Amplified Bible Commentary

)
At the End of the Age, God showed Daniel that the world would be reorganized into 10 supernations, each one of whom would be ruled by a king, a leader. But, then God revealed that an 11th horn was to arise once the 10 supernations and the 10 horns were in place and operating. Bible scholars universally hold that this 11th horn is Antichrist. What makes this understanding so exciting is that God foretold that Antichrist will be just "another horn". The word, "another" is Strong's Concordance Number H371 which simply means "from", or the "same as".
In other words, Antichrist will be of the same religious and political character as the 10 kings! What kind of religious character will Antichrist possess? Turn with me to Daniel 8:23-25"
"And in the latter time of their kingdom, when the transgressors are come to the full, a king of fierce countenance, and understanding dark sentences, shall stand up. And his power shall be mighty, but not by his own power: and he shall prosper ... he shall cause craft to prosper in his hand; and he shall magnify himself in his heart..." (Daniel 8:23-25;

Parallel Bible, KJV/Amplified Bible Commentary

)
This passage means that Antichrist shall practice Black Magick Witchcraft! Anti-Christ will be marked by intelligence, persuasiveness. (Daniel 7:8, 20; 8:23). Further, he will have an "understanding of dark sentences" (8:23), which means he will be a powerful adept in the occult. This mastery of the occult will give him great power over the other leaders of the world. History records that Adolf Hitler possessed the occultic ability to overpower other world leaders in one-on-one discussions because of the mighty force of the occultic power within him.
The term, "a king of fierce countenance" means that he will be a Black Magick Witch, whose facial countenance is permanently disfigured by the demonic forces within him. Adolf Hitler was a " king of fierce countenance".
Antichrist will possess great power, but it shall come from Satan, not from within his own heart and mind.
Finally, the word "craft" in this passage refers to Black Magick Witch-Craft in the Ancient Hebrew.
Therefore, we should expect that the leaders at the End of the Age shall be practicing witchcraft. Members of Illuminized Freemasonry, from President George Washington to Barack Obama, plus member of Skull & Bones, plus members of the German Thule Society, are certainly practicing Witchcraft.
From this understanding, we can see that people at the End of the Age should expect that their political leaders will have a heart of Black Magick treachery, power, and worldwide goals. We should not be surprised to learn that recent American Presidents form allegiances with people of dark hearts, of blood-stained hands and of deceitful minds.
We should expect that President of both political parties will fall into this infamous category.
We provide two examples:
1) Mid-1980's -- President Ronald Reagan's plan to illegally supply arms and munitions to the Nicaraguan Contras, in the "Iran-Contra Affair". What was the nature of these Contra rebels which Reagan was supporting in its efforts to overthrow the leftist -- but democratically-elected -- Nicaraguan government?
"The Contras' form of warfare was 'one of consistent and bloody abuse of human rights, of murder, torture, mutilation, rape, arson, destruction and kidnapping'. The 'Contras systematically engage in violent abuses...so prevalent that these may be said to be their principal means of waging war'. A Human Rights Watch report found that the Contras were guilty of targeting health care clinics and health care workers for assassination; kidnapping civilians; torturing and executing civilians, including children, who were captured in combat; raping women; indiscriminately attacking civilians and civilian homes; seizing civilian property; and burning civilian houses in captured towns." (Ibid)
2) September, 1973 -- President Nixon, and his National Security Adviser Henry Kissinger, secretly plotted the violent overthrow of a recently elected government under the control of President Salvador Allende. Several government officials were murdered as the new government took power (read full details in "Christopher Hitchens' Trial of Henry Kissinger: A Review").
We could go on and on listing all the instances where the American government has aided savage, bloody regimes and terrorists in an effort to achieve a political goal to which it was committed. In this realm, moral considerations are not even contemplated. The old Illuminati adage, "The Ends Justify The Means" was the only guiding principle.
One of the most dangerous misconceptions citizens can have is to believe that their government has their best interests at heart. People may attribute evil deeds to a "mistake" in judgment or to greed or to any number of other factors, but the reality is that our leaders do not have our best interests at heart. Illuminized Freemasons and Skull & Bonesmen plan to surrender our national sovereignty to Super Nation #1 of the Club of Rome Plan and ultimately, to the United Nations.
By any definition, that is treason. Listen:
"Treason -- the offense of attempting by overt acts to overthrow the government of the state to which the offender owes allegiance" (Merriam-Webster Dictionary)
To whom do American Presidents owe their allegiance? To America, and America only, of course. Therefore, when they advocate a "New World Order" that proclamation is treason, because they are advocating the plan to overthrow this government so it can surrender its national sovereignty to Super Nation #1 and ultimately, to the United Nations.
Do you remember when President George W. Bush based his actions against Osama bin Laden upon United Nations resolutions rather than upon American sovereignty? (Read full details in NEWS1551). Since President Bush abandoned American sovereignty upon the U.N. authority, he committed treason against America.
Do you remember when President George H.W. Bush could not counterattack against Saddam Hussein to force him out of Kuwait until he had received United Nations approval? That action was treasonous!
All New World Order advocates are committing treason. But, no citizen of any country is trying to bring them to justice for this crime.
The "Hand of Madness" of the Illuminati is slowing slipping around the entire Earth.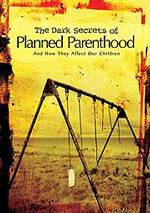 DVD
II. Dr. Gosnell was convicted of three counts of murder and about 240 other crimes for his leadership in the most bloody, heinous abortion clinics imaginable. One investigator stated that, when he first entered the clinic, the bloody scene reminded him of scenes from the movie, "Texas Chain Saw Massacre"!
Yet, Senator Barbara Boxer said that Gosnell's clinic is much like the typical Planned Parenthood clinics!
NEWS BRIEF: "Doctor Gosnell found guilty of murdering infants in late-term abortions", Fox News, May 13, 2013
"A Philadelphia doctor was found guilty Monday of murdering three babies born alive in an abortion clinic ... Dr. Kermit Gosnell, 72, was convicted of first-degree murder and could face execution in the deaths of three babies who authorities say were delivered alive and then killed with scissors at his grimy clinic, in a case that became a flashpoint in the nation's debate over abortion."
Dr. Gosnell could get the death penalty. He certainly deserves it, for the bloody carnage which occurred every single day at his clinic.
NEWS BRIEF: "What liberal media (really) fear about Gosnell trial", The Washington Times, May 10, 2013
" Over the past months, the horror perpetrated on women and babies at Women's Medical Society in Philadelphia, and the sensational serial murder trial of its operator Kermit Gosnell, continue to be totally ignored by mainstream media. Are they afraid to cover the story? This blackout is necessary because the liberal media knows that Gosnell is far from the exception and the abortion industry cannot survive scrutiny."
"Gosnell's bizarre collection of severed baby parts, and drains clogged with baby remains and blood. Even after complaints from his own staff and others, Gosnell was only busted in what authorities thought was a pill mill raid. Instead, they found a scene belonging in Saw or Texas Chainsaw Massacre. The Gosnell House of Horrors was replete with dripping bloody bags and filthy worn-out medical equipment. It even had a deranged doctor talking about his latest baby victim being 'big enough to walk around with me or walk me to the bus stop' ... midnight abortions, pretend doctors and the 'beheading' of babies born alive ..."
Yet, the really important and significant fact was that Gosnell's abortion clinic of horrors was fairly typical of Planned Parenthood clinics across this land. If you do not believe me, you must believe pro-abortion Senator, Barbara Boxer!
NEWS BRIEF: "Barbara Boxer: Gosnell Horrors No Different Than Problems at Any Clinic", Life News, May 8, 2013
"In a speech today on the Senate floor, pro-abortion Sen. Barbara Boxer of California opposed a resolution calling for hearings on abortion practitioner Kermit Gosnell and abortion. Connecticut Sen. Richard Blumenthal is leading the opposition to the resolution and Boxer joined him on the floor of the Senate today to articulate her opposition."
Now, as you read Boxer's reasoning as to why she was opposing a hearing on abortion practitioner, Kermit Gosnell and his abortion mill, you can see how her justification truly falls apart, in spectacular style.
"During the speech, Boxer said the problems at the Gosnell abortion clinic were really no different than problems at any other medical clinic. The comment earned her quick condemnation on Twitter from pro-life advocates."
What did Boxer just say? Did she really say that the typical abortion clinic across America -- including Planned Parenthood clinics -- have a "bizarre collection of severed baby parts, and drains clogged with baby remains and blood ... dripping bloody bags and filthy worn-out medical equipment"?
Yes, I believe that Senator Boxer meant exactly this. Truly, the "Hand of Madness" is sweeping this nation and the world. As the Holy Spirit systematically withdraws His restraining influence, the spirit of Satan is sweeping over all the globe, seizing all unsaved mankind in his horrific grip.
BREAKING NEWS
Dr. Gosnell avoided the death penalty as he was sentenced to Life Imprisonment!
NEWS BRIEF: "Philadelphia abortion doctor - Gosnell - gets life in prison", USA Today, May 14, 2013
"A Philadelphia abortion doctor convicted of killing three babies born alive has agreed to give up his right to an appeal and will be spared a potential death sentence. Kermit Gosnell was convicted Monday of first-degree murder in the deaths of the babies killed with scissors. The 72-year-old Gosnell gave up his appeal rights Tuesday, and prosecutors agreed to two life sentences without parole."
Why were prosecutors so willing to let Gosnell go to a life sentence rather than a death sentence? Gosnell is 72 years of age and would be able to tie up state prosecutors with nearly endless appeals until he died from old age.. To spare the State of Pennsylvania that horrific expense, they offered Gosnell life imprisonment if he would give up all rights to appeal.
Hopefully, the next time Dr. Kermit Gosnell leaves prison, it will be in a pine box.
To me, it seems like the "Hand of Madness" continued to have its way with this trial. Other abortion mill doctors needed to be put on notice that they could receive the death penalty for the crimes they have committed in carrying out abortions. What did Senator Boxer say? She said that Gosnell's clinic is pretty typical of the abortion clinics across America.
Planned Parenthood must be reeling right now. I hope they are shaking in their boots, worried about the tsunami I hope is about to hit them following this trial and its verdict.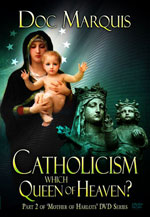 DVD
III. Jesus and Mary have just become allies of Israel hating radicals throughout the world.
The "hand of madness" recognizes no boundaries!
NEWS BRIEF: "Jesus and Mary have become weapons in hands of Israel-haters", Israel Today, December 23, 2012
"Anti-Israel activists in Ireland have printed and distributed Christmas greeting cards that claim if Mary, the mother of Jesus, was alive today, she would be unable to give birth to Jesus as documented in the New Testament because Israeli soldier would hold her up at the Bethlehem checkpoint as they do all Palestinian women."
First of all, you must realize why all Palestinians are forced to go through checkpoints. During the decade of the 1980's and 1990's, many suicide bombers easily and effortlessly traveled from their home to the vulnerable, wide-open cities and towns of Israel. Once there, they would detonate their suicide belts abroad public buses, restaurants, and markets. Seemingly, Israel had no defense against this kind of public terrorism.
But then, in October, 2000, Israel began to build a north-south fence separating Jew from Palestinian, as a means of discouraging suicide bombers from easily gaining access to public Jewish areas. As the fence sent up, so did the checkpoints. The Palestinians today live in segregated communities, separated from Jewish by wall and checkpoints, and they brought this situation upon themselves. (Read full prophetic details in NEWS2095)
Not to be outdone, the Israeli Embassy used the image of Mary and Joseph for their own propaganda means.
"These new greeting cards were announced the same weekend that the Israeli embassy in Ireland caused a storm by posting to its official Facebook page that if Mary and her baby, Jesus, were in Bethlehem today, they would likely be lynched as Jews. "
"Shortly after, the embassy deleted the post and issued an apology ... "The use of the symbols of Christianity in a political context is considered acceptable as part of anti-Israel campaigns ... 'These symbols have been used in such a way many times in the past decade. Jesus and Mary have become a weapon in the hands of those who hate Israel in Ireland, and our post on Facebook should be seen in the context of this local discourse and as a response to the anti-Israel Christmas cards'."
When the innocent and peaceful and hopeful images of Mary and baby Jesus can be used as symbols of hate and genocide, you know the "Hand of Madness" is running rampant throughout the world.
IV. The "Hand of Madness" is certainly gripping Iraq today!
An Iraqi minister loudly proclaims his disgust that President Obama has simply stepped aside to allow Iran to control Iraq! After eight bloody years of Depleted Uranium conflict, America has allowed her arch enemy, Iran, to achieve control over Iraq! What "Madness"?
NEWS BRIEF: "Iraqi MP Charges: "Obama has Handed Iraq over to Iran and said 'Do What You Like", Front Page News, May 12, 2013
"Obama has handed Iraq over to Iran and said 'do what you like', Alusi, a former Iraqi member of parliament who hails from the tribal Sunni province of al-Anbar in western Iraq ... Ten years after freeing Iraq from the tyranny of Saddam Hussein, the Obama administration has allowed a no less dictatorial regime to emerge, and then handed it over to its avowed enemy Iran, Alusi said."
How bad is the Iraqi government of PM Maliki? Is he worse than Saddam Hussein?
" 'The current regime is dictatorial, uninterested in the law, the constitution, or human rights', he charged. 'Saddam Hussein was a professional murderer and a professional liar. The current regime simply belongs to Iran. Members of the ruling party openly admit working for Iranian intelligence and brag about it'."
Can you imagine this "Hand of Madness"? President Obama seems to be washing down the drain all the efforts of the 8-year-old war initiated by President George W. Bush. Is Democrat President Obama betraying the years of effort from Republican George W. Bush?
Or, is Obama simply continuing a policy of allowing Iran to quietly control Iraq, a trend we noted in 2005 while Bush was still President! Please allow us to selectively quote from our NEWS2060, entitled, "Iran Winner of Iraq War: How Could Iran Defeat Mighty USA?"
Hamstrung by the Iraq debacle, all Bush can do is gnash his teeth as the hated mullahs in Iran cozy up to their co-religionists in Iraq. Iraq's new government has been trumpeted by the Bush administration as a close friend and a model for democracy in the region. In contrast, Bush calls Iran part of an axis of evil and dismisses its elections and government as illegitimate. So the Bush administration cannot have been filled with joy when Iraqi Prime Minister Ibrahim al-Jaafari and eight high-powered cabinet ministers paid an extremely friendly visit to Tehran this week."

The two governments went into a tizzy of wheeling and dealing of a sort not seen since Texas oil millionaires found out about Saudi Arabia. Oil pipelines, port access, pilgrimage, trade, security, military assistance, were all on the table in Tehran ... Jaafari's visit was a blow to the Bush administration's strategic vision.

Iranian President Mohammad Khatami on Sunday hailed a 'turning point' in relations with Baghdad as Iraqi Prime Minister Ibrahim al-Jaafari made a historic visit to Tehran aimed at strengthening ties after decades of enmity ... 'Putting security and stability in place in Iraq will benefit all the countries in the region', he (Jaafari) added."

Iran is ready to contribute to reconstruction and renovation of Iraq's petrochemical facilities, said Deputy Oil Minister Mohammad-Reza Nematzadeh ... Tehran would be happy to see economic development of Iraq and growth in the economic transactions and promotion of the country's technological standards."

Iran's Minister of Industries Es'haq Jahangiri said that Iran is ready to contribute to reconstruction of Iraq's industries. 'Iran's industrial and mineral industries are ready to launch joint ventures in any field necessary in light of government's support'...

ran is rebuilding Iraqi factories, cement plants, industrial and mineral industries, "certain infrastructural activities such as banking and insurance services", airports, petrochemical facilities! Can you see the "handwriting on the wall" for the American war effort? ran seems to be now stepping forward to implement the next stage, i.e., drawing the new Iraqi government into Iran's regional "Sphere of Influence".

As American and British forces leave Iraq, will they see Iran in their rear view mirror?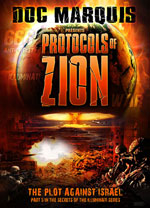 DVD
We wrote these words in 2005, eight long years ago. While Presidents Bush and Obama have drug this useless war out until the last of December, 2011, the Bush plan was doomed in 2005, and discerning people knew it. Should we find complete fault with Bush? Did you know that the Illuminati "Protocols of Zion" foretold that this war was the kind they planned to wage at the end of the period?
Here, the Protocols are speaking of waging war, when it speaks of 'oceans of blood and tears' resulting in their accumulating great wealth. In fact, listen to their blunt assessment of the need for war, and for a particular type of war:
"It is indispensable for our purpose that wars, so far as possible, should not result in territorial gains: War will thus be brought on to the economic ground ... Our international rights will then wipe out national rights ... and will rule the nations ..." [Ibid; Emphasis Mine]
Therefore, as America leads other nations to fight bloody wars without territorial gains, "international rights will then wipe out national rights ... and will rule the nations ..."
Try telling an Iraqi War veteran that he was sent to fight a filthy hot war that his leaders had no intention of winning!
Try telling a family who lost a loved one in this Iraq War that our leaders had no intention of ever ending this war!
You will have a tearful fight on your hands; yet, lamentably, this scenario is exactly right. And, we are continuing to fight such wars in Afghanistan, Yemen, Syria, Sudan, Mali, Niger, and many others in this area of the world which The Pentagon calls the 'Non-Integrating Gap', a region in which we have been fighting relentlessly since October, 2001.
As Leonard Ulrich proves in his DVD, "New World Order: Secret Societies and Prophetic Wars / Rumors of War DVD shown below, America is now in the grip of "progressively engineered warfare".
Can you see the "Hand of Madness"?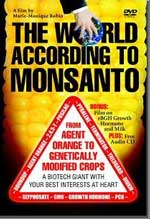 DVD
V. No farmer in the European Union can buy and plant any seed that is not pre-approved by the European Union's "Plant Variety Agency."
I believe Genetically Modified seeds will form the backbone of the effort to engineer massive worldwide famine, as we see foretold in Seal #4 Judgment, Revelation 6:8.
"A new law proposed by the European Commission would make it illegal to "grow, reproduce or trade" any vegetable seeds that have not been 'tested, approved and accepted' by a new EU bureaucracy named the 'EU Plant Variety Agency'."
"t's called the Plant Reproductive Material Law, and it attempts to put the government in charge of virtually all plants and seeds. Home gardeners who grow their own plants from non-regulated seeds would be considered criminals under this law."
What better way to quickly produce a famine anywhere in the world you desire than to force farmers, year after year, to plant only seeds which will not produce reproducible seeds. And, then, to withhold those seeds at the time you want to force the famine? Listen to the prophecy of Seal #4m revelation 6:8:
"So I looked, and behold, an ashy pale horse, black and blue as if made so by bruising, and its rider's name was Death, and Hades (the realm of the dead) followed him closely. And they were given authority and power over a fourth part of the earth to kill with the sword and with famine and with plague (pestilence, disease) and with wild beasts of the earth." (Revelation 6:8; Parallel Bible, KJV/Amplified Bible Commentary)
I think this type of seed program will be used to produce the kind of massive famine spoken of here in this passage.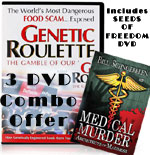 There is another possibility as to how genetically modified seeds might be used to produce global plague.
Monsanto has already genetically modified corn to contain a pesticide which kills any bug who eats it, and some people are starting to feel the effects. When the time comes, for the prophesied famine, might Monsanto then engineer a seed which will produce a plant containing a deadly poison so that anyone eating it will die.
The first scenario uses genetically modified seeds to withhold a planting of a year or two or three.
The second scenario uses genetically modified seeds to directly kill the consumer.
Now can you see why "Death, and Hades (the realm of the dead) followed" the rider of the Black and Blue horse, of Revelation 6:8?
Satan's "Hand of Madness" is stretching out over the entire globe and is preparing the world for the soon appearance of his Antichrist.
These five news stories illustrate that this "Hand of Madness" is producing the type of world foretold by the Apostle Paul.
---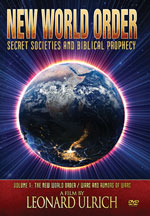 "New World Order: Secret Societies and Prophetic Wars / Rumors of Wars"
New DVD by Leonard Ulrich
Evil is organized, and pervasive and determined!
'New World Order: Secret societies and Biblical Prophecy' is a 5,000 year survey of secret societies followed by a 225 year survey of progressively engineered warfare.
L These studies clearly show how evil is fulfilling Biblical prophecy to the letter. Far from 'conspiracy theory', it calmly relies on original documents. This film is being shown to church groups and conferences around the world. It is for those who want the truth
This documentary is THE BEST in examining all the various forces and countries and movements in the past 225 years which have committed to the New World Order. Great for the novice who is just now being introduced to the concept of the New World Order. But, the student who has been studying this for a long time will also learn a great deal he/she has never thought of before. The best 'A-Z' study I have ever seen.
2 hours, 20 minutes - Regularly $24.99, Introductory Price Only $19.99 - http://www.cuttingedge.org/detail.cfm?ID=2518
---
THREE NEW RON SKIBA DVDs
Babylon Rising '322' - Tetrads and the Time of Jacob's Trouble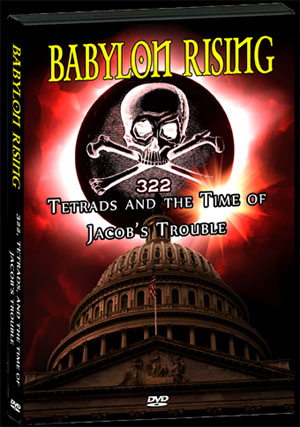 Babylon is rising and secret societies are actively at work, advancing an agenda to enslave us in their Luciferian plans for the New World Order. We can no longer afford to ignore the signs that are all around us.
In Genesis 1:14, we learn that the sun, moon and stars are to be for signs and for seasons. The prophets of the Old Testament wrote about the sun being darkened and the moon becoming as blood before the great and terrible Day of the Lord.
Moses wrote about the seven Feasts of God, which were known as moedim (appointed times) that were meant to be a miqra (something to be rehearsed). There are some very significant signs in the heavens lining up over Gods Feast Days between now and 2034, which could be pointing to the start of the time of Jacobs Trouble and the Second Coming of Jesus Christ.
This presentation examines all of this and more, while simultaneously revealing a curious link to the cryptic numbers 322 of Skull and Bones fame.
Archon Invasion: 2045 and the Quest for Immortality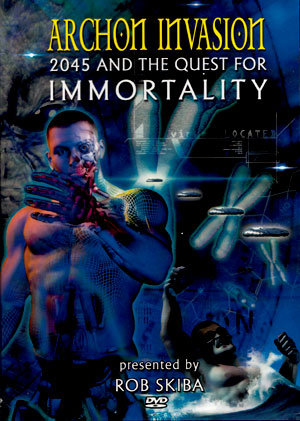 Part 3 "Archon Invasion" DVD by Rob Skiba

Who, or what, is an Archon? Who were the nephilim? How did they return both before and after the Flood? Why did Jesus say that the Last Days would be like the days of Noah? How do the advancements of the 20th Century relate to ancient prophecy from the book of Enoch? What did Aleister Crowley and Jack Parsons do that may have opened up portals to other dimensions? What does an ancient Canaanite blood altar have to do with the Federal Reserve? Why should we be concerned about the act of mixing animal and human DNA? What is the 2045 Strategic Social Initiative and how does it relate to the promises of the serpent in Genesis 3:4,4? How has the devil been preparing the masses for the acceptance of transhumanism and the potential return of the old gods?
Rob Skiba combines elements from his Archon Invasion parts 1 and 2 DVDs into one powerful information packed seminar that answers these questions and more!
133 minutes - Order yours now!
Babylon Rising DVD: And The First Shall Be Last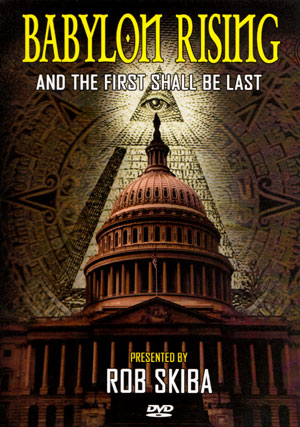 New Video by Rob Skiba
Simply Amazing! After researching the historical connections between the occult, secret societies and Biblical prophecy for the past five years, Rob Skiba has produced a masterpiece!
If you have ever been curious about the spiritual foundations of America, including our current place in history, economics, politics, science and Biblical prophecy, this video is for you!
What do the Mayan prophecies, the Aztec Calendar Stone, the symbols on Americas Great Seal and the U.S. Capital Building, all have in common?
America is the catalyst for many critically important End of the Age prophecies to occur. This incredible story is told by the American symbolism created over the past 250 years and by the actions of a number of our Presidents.
Includes
Over 2 hours
We do not agree with every conclusion of this video, but offer it to you because it does contain exciting information about Americas past, present and future, which you need to know. Order yours now!
---
NEW Countdown To Eternity - Volume 5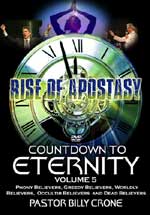 "Countdown To Eternity" DVD: Volume 5
"Phony Believers, Greedy Believers, Worldly Believers, Occult Believers, Dead Believers"
Regularly $39.99, Now Only $19.99
Pastor Billy Crone alerts Christians to several more key prophecies which are uniquely coming to pass right now, in Today's News!
These are the key prophecies he covers:
* Phony Believers
* Greedy Believers
* Worldly Believers Part 1
* Worldly Believers Part 2
* Occultic Believers and
* Dead Believers
Pastor Crone lists major prophetic signs God has given to lovingly wake us up so we'd repent and be saved before it's too late. These prophetic signs are many, but there are 10 REALLY IMPORTANT ones to which we seriously need to pay attention.
Nearly four hours long, 2-DVD Set -- http://www.cuttingedge.org/detail.cfm?ID=2508
NEW COUNTDOWN TO ETERNITY COMBINATION DVD OFFER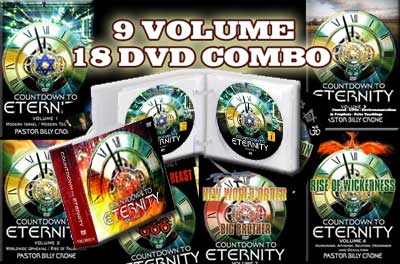 "COMBO OFFER: Countdown To Eternity End Times" DVD's
by Pastor Billy Crone
Regularly $79.96, Now Only $49.96 in this Combination Offer
The 'Countdown' To Eternity 5-Volume series takes a look at 10 major prophetic signs God has given to lovingly wake us up so we'd repent and be saved before it's too late. This fresh look at world events through the lens of prophecy is intended to convince unbelievers that the End of the Age is upon us NOW and to urge them to repent while the Age of Grace is still being offered by Jesus.
Each Volume has 2 DVD's lasting 4 hours, so this combination offer has 8 DVD's lasting 16 hours! http://www.cuttingedge.org/detail.cfm?ID=2505
---
"Freemasonry: FATAL In The First Degree"
New DVD by Bill Schnoebelen, Former Mason, Satanist
Once viewing this video, you will never again believe that your loved one can safely pass through the first degree of Freemasonry!
Bill demonstrates that Freemasonry is Satanic from the First Blue Lodge Degree right up through the 33rd Degree. The first degree of Masonry is taken directly from the first degree of Satanism, where the initiate bows his knee to Baal and Lucifer and MARRIES Baal! The first initiation degree is a spiritual marriage to the god Baal.
When your loved one completes the first degree there is a very high chance he will be demonically possessed or at least demonically afflicted. But, to make matters much worse, your loved one will bring these newly found demonic 'friends' right in the front door of your home, where he will begin to afflict all relationships within the home -- Spousal, siblings, father-children, spiritual. Every meaningful, cherished relationship will abruptly come under severe and continuous attack. Suddenly, there will be no peace in relationships and in your home.
But, there is more spiritual horror! When the new Mason begins a memorization program called 'Posting', his mind begins to change, as his mental programming is quietly and subtly reprogrammed through a mental virus very similar to a computer virus. Suddenly, he is not the same person. His relationships begin to change and he will grow spiritually colder.
Bill then Biblically guides you through the spiritual steps necessary for a person who is already caught by Masonry's trap to be free of the spirit of Masonry and full of the Holy Spirit.
Finally, Bill shows how you can be set free from any spiritual bondage if Freemasonry is in your family background, father, grandfather, mother or grandmother. Spiritual deliverance is thoroughly discussed. http://www.cuttingedge.org/detail.cfm?ID=2459
---
New Powerful NEW Headline News Articles For Our Faithful Supporters
Your faithful support enables us to keep Cutting Edge free for everyone else. Our readers have always loved the indepth correct news analysis found in our "Headline News Analysis".
"President Obama Is Gutting The Army, Navy, Marine Corps, and Air Force"
Defense Department Is So Gutted By Sequester Budget Cuts That Planes Are Grounded, Naval Ships Are Being Docked and Marines Lament That They Cannot "Handle Even One War"!
"UNPRECEDENTED! A Former Pope Moves Back Into The Vatican To Live and Work Side-by-Side With the New Pope"
"Is The Future False Prophet Being Set In Place?"
Iraq -- Ancient Babylon -- is nearing the End Times' final annihilating judgment just as God foretold 2,700 years ago in Isaiah 13.
"Mighty Babylon" is falling and her days shall not be prolonged!
The clock of death continues to tick, and soon, Iraq will be history's first "Dead Nation", a place where no person or animal can possibly live. Mighty Babylon is clearly succumbing to God's inexorable judgment -- and Skull & Bones George W. Bush drove the prophetic stake through the heart of the ancient nation of Nimrod!
The Federal Government Has Bought Almost 2 Billion Rounds of Ammunition. Is It Planning To Go To War With The American People?
As frightening as this scenario sounds, we will demonstrate that the Government is NOT planning to go to war with the American people, as they have a far different plan in mind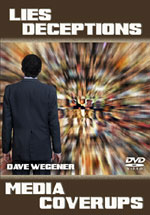 "10th Anniversary of the Iraqi War: At Last, Mass Media Is Admitting The War Was Launched On Lies And Is A Monumental Failure"
Cutting Edge was trumpeting this fact months before Bush's invasion! We knew the Illuminati had planned this war at the 1954 Bilderberg Meeting and we had filtered this knowledge through Bible prophecy and found a precise match.

Iraq's "Operation Enduring Freedom" meant only the 'freedom of the grave" for millions, but the worst is yet to come.
Part 1 of a Series Entitled, "Iraq War: Mad Dash On The 33rd Parallel"
"Powerful Current Positive Proof That America's Economy Is Fascist"
Capitalism is dead and buried. It will take less than a decade to move the entire economy to a Fascist economic system. This development is a major step toward the New World Order.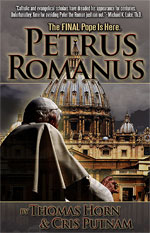 Is The Planned Moment Arriving For The Pope To Preside Over The Building of A Combination Worship Center For All Monotheistic Faiths In Jerusalem?
Israel has signed an historic agreement with the Vatican, giving the Pope a seat at King David's Tomb. Is Rome planning to soon move the throne of the Papacy to Jerusalem? Moving the Papal throne from Rome to Jerusalem would carry enormous End Times religious global implications.
"America Is Leading Western Powers In A Full-Scale Invasion of Africa!"
Now that the wars in Iraq and Afghanistan are winding down, the West is in full invasion mode destabilizing a major part of the "Non-Functioning Gap" region of the world. The "Pentagon's New Map Strategy" is being brilliantly followed. Have you noticed? Mass Media is either clueless as to what is occurring or they are part of a worldwide coverup.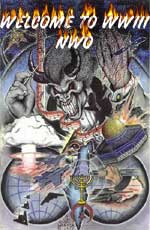 "World War III Will Be History's Greatest Lynchpin Event!"
Many major events are planned to occur just as World War III begins.
Mankind will be systematically hit with unparalleled disasters of every kind as this planned global war unfolds.
But, none of these events will occur until the lynchpin called "World War III" is pulled.
This article is perhaps the most important we have ever written!
---
May Jesus Richly Bless You,

David Bay, Director

Cutting Edge Ministries

800-451-8211